Mariana Chavira Signs National Letter-of-Intent with ENMU Women's Cross Country Team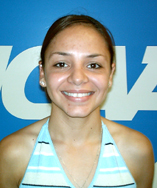 PORTALES, N.M. — Cross country runner Mariana Chavira from El Paso Community College, has signed a National Letter-of-Intent to run for Eastern New Mexico University, ENMU Head Coach Joel McMullen announced today. Chavira, who previously attended Montwood HS in El Paso, Texas, will be a junior for the Zias during the 2006-07 academic year. She is the daughter of Rosa Emma Chavira.
McMullen, in an effort to restore the ENMU cross country program to national prominence, has recruited to add depth to Eastern's strong core of student-athletes on both the men's and women's cross country teams. He has focused primarily on talented runners throughout the Southwest.
The ENMU women's cross country squad, with only one senior on the team this past fall, finished seventh out of 12 teams at the Lone Star Conference Championships. The Zias earned Academic All-American status for their efforts in the classroom. ENMU was one of only three teams in the LSC to receive the award.
Chavira emerged as the number one runner the past two seasons at El Paso CC. She placed 16th in 2004 and 20th in 2005 at the National Junior College Athletic Association (NJCAA) Cross Country National Championships. She was one of the premiere runners nationally at the Division I level of the NJCAA. Additionally, she was on the NJCAA Coaches' Association All-American Team in 2004 and 2005. Chavira was named All-Conference in 2004 and 2005.
"Mariana was one of the top distance runners at the junior college level for the past two seasons," McMullen said. "She has competed against some of the very best runners in the country and she will bring talent, work ethic, leadership and experience that will help the Zias contend for a conference championship and a strong regional finish next fall.
"Not only is she an extremely talented athlete, she also is a wonderful and charming young woman who will make a wonderful addition to our cross country family," McMullen continued. "I will be very surprised if she is not one of the top ten runners in conference next fall. She will really solidify our top seven on the team. Signing Mariana is a great accomplishment for our program."