Abel Asmerom Signs National Letter-of-Intent with Eastern New Mexico University
PORTALES, N.M. — Eastern New Mexico University head men's soccer coach Carlos Elizondo has announced the signing of Abel Asmerom to a National Letter-of-Intent to play for the Greyhounds next season. Asmerson will be a freshman during the Fall 2006 semester. ENMU has signed a total of 11 players this spring.
The Greyhounds completed their second year of competition in soccer this past fall. ENMU is a member of the very competitive Southwest Soccer Conference, which is made up five NCAA Division II teams at universities in Missouri, New Mexico, Oklahoma and Texas. Elizondo, who was an assistant coach in 2004, was promoted to head coach during the spring of 2005.
Freshman in 2006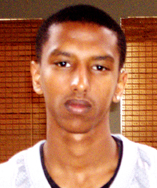 Abel Asmerom
Defender, 5'9"
Albuquerque, New Mexico (Eldorado High School)
Asmerom played soccer during the 2005 season for the State Champions at Eldorado High School in Albuquerque, New Mexico. He also experienced success as a left back for the AEFC Lions, a club team in the Albuquerque area.
Coach Elizondo says, "Abel has great athletic ability. He is able to combine well with other players. We look forward to the contributions he will make to our defense."