Weese Named Head Women's Basketball Coach at Eastern New Mexico University
Former Texas Tech Assistant will Lead Zias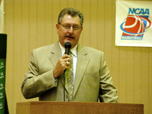 PORTALES, N.M. — Linden Weese has been hired as the head coach for the Eastern New Mexico University women's basketball team, ENMU Director of Athletics Mike Maguire announced today. Weese, who was an assistant coach and recruiting coordinator for the women's basketball team at Texas Tech University for 23 years, will begin his duties immediately.
Weese coached at Texas Tech from 1982-83 through 2004-05. He helped the Lady Raiders achieve a 555-173 (.762) record during his lengthy stay on the TTU campus. He also contributed to Texas Tech winning five regular season Southwest Conference championships (1990-92, 1992-93, 1993-94, 1994-95, 1995-96) and three Southwest Conference Tournament titles (1991-92, 1992-93, 1995). He helped the Lady Raiders win three regular season Big 12 titles (1997-98, 1998-99, 1999-00) and achieve two Big 12 Tournament championships (1997-98, 1998-99).
While coaching and recruiting at Texas Tech, Weese was involved with 18 teams selected for the NCAA Division I national Tournament, including 10 teams which reached the Sweet 16. The Lady Raiders reached the Elite Eight in 1992-93, 1994-95, 1999-00 and 2002-03. Texas Tech won the NCAA National Championship in 1992-93.
"We are very pleased to have hired a head coach for the Zia basketball team who brings so much experience at the collegiate level," Maguire said. "Linden Weese coached for a tremendously successful women's basketball program at Texas Tech for more than two decades. He coordinated recruiting for the Lady Raiders in this part of the country as well as nationwide. He impressed our players, coaches and staff with his professionalism and enthusiasm for the game."
Additional accomplishments for the Lady Raiders while Weese was coaching at TTU included the graduation of 76 student-athletes, increased attendance from 876 per game in 1982-83 to 12,660 per game (ranked second in the nation) in 2004-05, and Women's National Invitation Tournament (WNIT) berths in 1982-83 and 1984-85. The Texas Tech women ranked sixth nationally in wins during the 1990s.
"I'm just so excited to have the opportunity," Weese said. "I'm really looking forward to seeing where we can take the program in the future. I just want to thank Mike (Maguire) and the administration for this opportunity."
Weese began his coaching career at Floydada High school in Floydada, Texas, where he was the head coach for girls' basketball and girls' track in 1977-78. From 1978-79 through 1981-82, he was the head girls' basketball coach at Stratford High School in Stratford, Texas. The following season, 1982-83, he began his long tenure at Texas Tech. Weese won 65% of his games as a head coach at the high school level.
He was a member of the Women's Basketball Coaches Association (WBCA) and served on the Assistant Coaches Committee from 1984-1986. He participated on the WBCA Special Committee on Recruiting and Access in 2004. He was recognized in a national women's basketball publication as one of the top three assistant coaches in the NCAA.
He graduated from Higgins High School in Higgins, Texas, in 1972. He received an Associate of Arts degree in Education form Frank Phillips Junior College in 1974 and earned a Bachelor of Science degree in Education from Northwestern Oklahoma State University in 1976. He has been involved in numerous local and regional basketball camps and clinics, and has been a guest speaker at athletic and civic events in the Lubbock area. He was the local Co-Chairman of the Children's Miracle Network Telethon in 2002.
Weese and his wife, Gay, live in Lubbock, Texas. They are the parents of five grown children between the ages of 23 and 37.
"My wife and I like this area. We have a place in Ruidoso as well. Our family is here (High Plains Region) and I think it's a good fit for me and my family," Weese said."
The Zias compete in NCAA Division II and the Lone Star Conference. ENMU has earned an all-time record of 425-397 (.517) in 32 seasons since the team first played in 1974-75. Eastern won the LSC regular season title in 1992-93 and qualified for the LSC Tournament 15 times between 1985-86 and 2003-04. ENMU was 11-17 in 2005-06, including 3-11 in the LSC South.
Eastern will have an experienced group of returning players, as the Zias lose just one senior this spring — First Team All-Conference post player Tiana Bryant (Roswell, NM/University of New Mexico). Three players injured this past season are eligible for medical hardship waivers.
"We're going to evaluate the kids that are here (at ENMU), Weese said. "I've met with them and really enjoyed what I've seen out of them so far.
Weese added that he wanted to field a team capable of playing an up-tempo brand of basketball. "I hope we put out a product that will compete every minute from start to finish," he said. "I really like to push the ball up the floor. I think kids like that style. I think it's an exciting style of ball.