Sanders and Gardner Complete Second Go at NIRA College Nationals Final Rodeo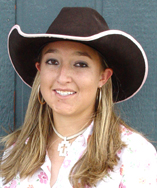 CASPER, WYO.— Sophomore Raelyn Gardner (Lovington, NM/Lovington HS) finished the second go of the breakaway roping with a time of 4.2 seconds this afternoon at the National Intercollegiate Rodeo Association College National Finals Tuesday evening in Casper, Wyo. Senior Rowdy Sanders (Whiteface, Texas / South Plains College is tied for 11 th place in the bull riding.
Gardner finished the day with a time of 4.2 second, and will return to competition for the third go on Thursday.