Gardner Turns in Top Performance in Third Go at NIRA
College National Finals Rodeo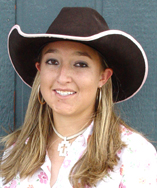 CASPER, WYO.— Sophomore Raelyn Gardner (Lovington, NM/Lovington HS) from the Eastern New Mexico University rodeo team notched the best overall performance in the third go of the breakaway roping Thursday afternoon at the National Intercollegiate Rodeo Association College National Finals in Casper, Wyo.
Gardner 's time of 2.1 seconds was her best in any of the three rounds, and was .5 seconds ahead of the next fastest competitor. She currently holds fourth place in the breakaway roping, with a combined time of 9.6 seconds.
Senior Rowdy Sanders (Whiteface, Texas / South Plains College is tied for 9th place in the bull riding with an average score of 82.5.
The championship rounds will be held on Saturday, June 18th.