Bryant Named First Team All-LSC South
Brown Receives Honorable Mention
PORTALES, N.M. — Tiana Bryant (Sr., Post, Roswell, NM/University of New Mexico) has been chosen First Team All-Lone Star Conference South Division and Heather Brown (Jr., G, Hereford, TX/Hereford HS) has received Honorable Mention All-LSC South recognition for the 2005-06 season, in voting by the LSC South head coaches. The All-LSC South Team was announced upon completion of the LSC Tournament.
Both selections from ENMU were repeat honorees. Brown was a First Team pick in 2004-05 and an Honorable Mention choice in 2003-04. Bryant was named to the Honorable Mention list last season.
1st Team All-LSC South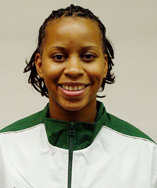 Bryant led the Zias this past season with averages of 18.5 points, 8.4 rebounds and 2.6 steals per game. She was the leading scorer in 18 of Eastern's 28 games and recorded five double- doubles in points and rebounds. She scored in double digits in all but one game, including 14 games with 20 or more points. Bryant finished the season ranked second in the LSC in scoring, while placing third in steals and sixth in rebounding.
Bryant's 913 career points rank her 13th all-time at ENMU. During her junior season, Bryant averaged 10.5 points and 5.1 rebounds per game. She played one season at the University of New Mexico in NCAA Division I, before transferring to Eastern for the second half of the 2003-04 season. She played in the final 20 games during the Spring 2004 semester.
In addition to Bryant, other players named First Team All-LSC South were freshman guard Emily Brister of West Texas A&M University, junior forward/center Margaret Wimbish of Texas Woman's University, senior center Keisha Monroe from West Texas A&M and junior center Iveta Griffin from Tarleton State University.
Honorable Mention All-LSC South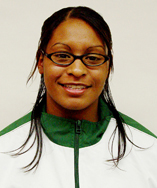 This is the third season in a row that Brown has been chosen to an All-LSC South team. She had a solid junior year, with averages of 12.9 points, 3.3 assists and 3.0 boards per contest. She finished the season with the second best free throw shooting percentage in the LSC, connecting on 84.3% of her attempts. From beyond the three-point arc, Brown was the third most efficient shooter in the conference with a 39.6% conversion rate. She scored in double digits in 18 games this year, including six games with 20 or more points. Her career-high of 27 points in a contest came in the final game of the year, a 73-63 upset victory over Midwestern State University.
Brown ranks 11th on Eastern's all-time scoring chart with 932 points. She has averaged in double figures in each of her three years with the Zias. Brown has recorded career averages of 11.5 points, 3.3 rebounds and 3.1 assists per game. Brown was the LSC South Freshman of the Year in 2003-04 and was chosen the LSC South Defensive Player of the Year in 2004-05.
Bryant and Brown had to shoulder the burden as players and team leaders this season, after three significant players went down to season-ending knee injuries within the first six games of the year. The Zias fought through the injury-plagued season to finish with an 11-17 overall record, including 3-11 (7th place) in the LSC South.
LSC South Special Awards
The LSC South coaches chose WTAMU freshman guard Emily Brister as Player of the Year and Freshman of the Year. Junior center Alicia Saunders, also from West Texas, was selected as the Defensive Player of the Year, while junior center Iveta Griffin of Tarleton State and junior forward Meghann LeJeune of Angelo State University were named Co-Newcomers of the Year. WTAMU Head Coach Bob Schneider was voted LSC South Coach of the Year.