Kennedy Named Second Team All-LSC South
Green and McDuffie Receive Honorable Mention
PORTALES, N.M. — Eastern New Mexico University sophomore third baseman Derrick Kennedy (San Antonio, TX/G.W. Brackenridge HS) has been named Second Team All-Lone Star Conference South Division for the 2006 season in voting by the LSC South head coaches. Senior catcher Brian Green (Fountain Hills, AZ/Central Arizona College) and junior second baseman Mike McDuffie (Albuquerque, NM/ Sandia HS) were named Honorable Mention All-LSC South.
Kennedy led ENMU with a .356 batting average. McDuffie batted .348 and Green hit .345. ENMU was 16-4 after 20 games, but won just eight games the rest of the way, as the Greyhounds finished the season with a 24-32 overall record, including 6-14 in the LSC South (5th place). The Hounds scored 10 or more runs 16 times, but recorded just one shutout and held opponents to three runs or less in only eight games during the season.
Overall, 17 players were named to the First Team, 17 players were chosen for the Second Team and eight players earned Honorable Mention. Angelo State University led the way with seven First Team selections. Abilene Christian University and Texas A&M University-Kingsville each had five First Team picks.
2nd Team All-LSC South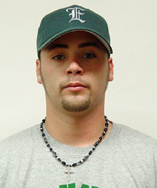 Kennedy not only led the Greyhounds with a .356 overall batting average, but also was the team's top hitter in LSC South action with a .412 batting average. Against LSC teams, he scored 18 runs and recorded 14 RBIs, while starting all 20 games. During the overall season, he led the team with 47 runs scored and tied for third on the squad with 33 RBIs. He hit 12 doubles, three triples and two homers. Kennedy played in 52 games with 48 starts.
He achieved at least one hit in 12 consecutive games between March 25 and April 7, and ended the season with a 10-game hitting streak. He set an ENMU record with six hits (6 of 6) in Eastern's 33-14 win over West Texas A&M University in the first game of a double-header on April 7, then tied an ENMU record with seven at bats (5 of 7) in a 22-5 victory over Tarleton State University to start a double-header on April 15.
During two seasons at Eastern, Kennedy has achieved a .352 career batting average, with 111 hits in 315 at bats. He has scored 71 runs, registered 66 RBIs and achieved eight sacrifice flies during his career. He also has earned 70 putouts and 105 assists at ENMU.
Honorable Mention All-LSC South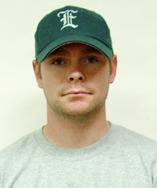 Green played in 42 games with 35 starts. He hit .345 for the season, including .364 (36 of 99) in his final 34 games, as he increased his average from .235 on March 3. He scored 25 runs, added 23 RBIs, hit five doubles and blasted two home runs. He tied an ENMU single game record with seven at bats against Texas A&M-Kingsville on April 29 in Eastern's 8-7 win in 12 innings.
As a catcher, he was exceptional at blocking pitches that were in the dirt. He also recorded 145 putouts and 24 assists. Opponents were thrown out 15 times on stolen base attempts with Green behind the plate.
Green has seen action in 84 games, including 71 starts, during his ENMU career. He played in just five games in 2004, before missing the rest of the season with a leg injury. He received a medical redshirt and returned to play in 37 games (31 starts) in 2005. His career batting average is .296 to go with 67 hits, 39 runs scored and 36 RBIs. He has registered 276 career putouts, with 50 assists and just seven errors, for a .979 career fielding percentage.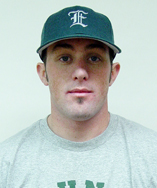 McDuffie contributed a .348 batting average to the Greyhounds' offense this season. He led the Hounds with a .596 slugging percentage and nine home runs, as he tied for sixth place on Eastern's all-time single season home run list. He also pounded out a team-high 18 doubles and smacked two triples. He ranked first on the team with 43 RBIs and also scored 43 runs. He belted two home runs in a 12-9 win over Northeastern State University on Feb. 24.
On defense, he provided 135 putouts, a team-high 122 assists and committed 10 errors for a .963 fielding percentage at second base. He led the team with 54 games played and 53 starts.
In three seasons at Eastern (2003, 2005, 2006), McDuffie has accumulated 134 hits, while scoring 81 runs and providing 87 RBIs. He owns a career batting average of .306 and a career slugging percentage of .491. His career defensive totals include 196 putouts and 215 assists.
LSC South Special Awards
The LSC South coaches also voted on special awards for the season's top performers. Coach of the Year honors went to Mark Jones of West Texas A&M. Joel Wells, a senior designated hitter at Abilene Christian University, was chosen Player of the Year. Co-Pitcher of the Year honors went to senior starting pitcher J.W. Nastoupil of Angelo State and to senior starter Chris White of Texas A&M-Kingsville. Designated hitter Clay Calfee of Angelo State was chosen Freshman of the Year.