Gerleve Named Greatest Greyhound, Schiely Chosen as Greatest Zia
PORTALES, N.M. — The Eastern New Mexico University coaching staff has selected junior track and field athlete and football running back Zach Gerleve (6'1", 180 lbs., Truth or Consequences, NM/Hot Springs HS) as the Greatest Greyhound of 2005-06. The coaches also chose senior volleyball player Lindsay Schiely (6'0", Portland, OR/Clackamas CC) as the Greatest Zia for 2005-06.
The Greatest Greyhound and Greatest Zia awards recognize the athletic accomplishments, leadership abilities and academic success of the recipients. Both of this year's winners were leaders of their respective teams.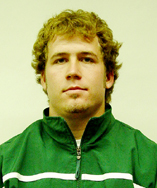 Gerleve won the Lone Star Conference javelin title for the second consecutive year, while also earning First Team All-LSC honors for the second season in a row. He threw the javelin 192' 6" for his winning toss at the LSC Meet, hosted by Tarleton State University on April 21-22. His top throw of the season so far was 196' 4" at the McMurry University Indian Relays. He has won every meet he has entered this spring, except for the Wes Kittley Open at Texas Tech, where he placed third.
His winning throw at McMurry was his career-best in the javelin, as he passed the provisional qualifying standard of 195 feet. He currently ranks 21st nationally in NCAA Division II in the event this season.
Gerleve has achieved the provisional qualifying mark all three seasons at ENMU, but has not yet been selected for the national meet. He is entered in the Abilene Christian University Last Chance Meet today and will throw at the McMurry Twilight Meet on May 18 in hopes of throwing near or above the 200-foot mark to improve his chances of making this year's national meet. The NCAA Division II National Championships are set for May 25-27 in Emporia, Kan.
In football, Gerleve has been a reserve running back for the Greyhounds. This past season, he carried the ball 23 times for 92 yards (4.0 yards per rush). He also caught four passes for 20 yards. In two seasons, he has rushed 26 times for 125 yards (4.8 yards per rush).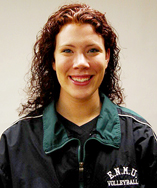 Schiely was named First Team All-LSC South in 2004 and 2005. This past season, she also was chosen for the LSC South All-Academic Team and received First Team ESPN The Magazine Academic All-District VI honors. In 2004, she was named Honorable Mention All-Southwest Region by the American Volleyball Coaches Association (AVCA), as she helped the Zias earn a 25-9 overall record, while qualifying for the NCAA Division II National Tournament for the first time in school history.
Schiely led the Zias with 376 kills and a .333 hitting percentage in 2005. She ranked second in the LSC in hitting percentage and ranked eighth in the conference in blocks per game, with 105 blocks in 105 games. She contributed a nearly-perfect match against Angelo State University on Oct. 8, 2005, when she recorded 29 kills with no attacking errors on 46 attacks. She earned double-digit kills in 20 of 27 matches during the season. She achieved a personal-season high 10 total blocks against Southeastern Oklahoma State University on Oct. 15, 2005.
In 2004, her first season at ENMU, Schiely registered 398 kills for the Zias. She also ended the season with a .290 hitting percentage and 111 total blocks. She averaged 3.06 kills and 0.85 blocks per game.
She played two seasons at Clackamas CC in Oregon, before transferring to ENMU. In her two seasons with the Zias, she contributed 774 kills and 216 blocks. Her career hitting percentage of .310 placed her fifth all-time at ENMU.