Three Greyhound Track and Field Athletes Prepare for Last Chance Meet at ACU, Twilight Meet at McMurry
PORTALES, N.M. — Javelin throwers Zach Gerleve (Jr., Truth or Consequences, NM/Hot Springs HS) and Logan Capps (Fr., Cloudcroft, NM/Cloudcroft HS), plus middle-distance runner Guy Kcholi (Fr., Yaure, Israel/Ginsburg HS), are hoping to achieve or extend national qualifying marks when they compete at the Abilene Christian University Last Chance Meet on Thursday, May 11. Gerleve has already achieved a provisional qualifying throw in the javelin, while Capps and Kcholi have shown the potential to also attain qualifying marks.
If Gerleve, Capps and Kcholi don't achieve the improvement they seek at ACU, they will get one more chance to qualify for the National Championships. The McMurry University Twilight Meet is scheduled for Thursday, May 18.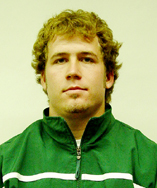 Gerleve claimed his second consecutive Lone Star Conference title in the javelin with a throw of 192' 6 1/4" on Saturday, April 22. His top throw so far this season was 196' 4" at the McMurry University Indian Relays on April 6. His throw at McMurry landed just over a foot past the provisional qualify mark of 195 feet. Gerleve has won every meet he's entered the spring, except for the Wes Kittley Open at Texas Tech, where he placed third.
As a provisional qualifier, Gerleve is now in a pool of potential competitors for the NCAA Division II National Championships, set for May 25-27 in Emporia, Kan., but he isn't guaranteed a spot. The number of provisional qualifiers who compete at the national meet will be determined by how many athletes achieve the automatic qualifying standard of 218 feet, plus the relative competitiveness of the provisional qualifying pool. Meet coordinators try to find a cutoff point that will include athletes who are competitively matched with the rest of the field.
According to ENMU Head Coach Eric Boll, Gerleve ranks 21st this week on the list of provisional qualifiers. He may slip into the field with his current distance, but an even better throw at the ACU Last Chance Meet would almost certainly increase his chances of getting to the National Championships.
Capps, who earned a personal-best throw of 183'10" at the Texas Tech Wes Kittley Open on March 24, needs to add a little over 11 feet to reach the provisional qualifying mark. He took third place at the LSC Championships with a throw of 179' 7 1/4". He has thrown the javelin at least 180 feet at three meets this year.
Kcholi finished the 800-meter run at the LSC Championships in fourth place with a time of 1:57.26. His top time this season in the 800-meter event was 1:55.90 for third place at the Angelo State University David Noble Relays on April 13. He needs to run 2.9 seconds faster to attain the provisional qualifying mark of 1:53.0. The automatic qualifying mark is 1:49.80.
The ENMU outdoor track and field program is in its fourth season since returning in 2003. ENMU has an outstanding history in the sport, with two National Association of Intercollegiate Athletics (NAIA) national titles in 1974 and 1976. Eastern also placed second in indoor and outdoor track in 1973 and fourth in indoor track in 1974.