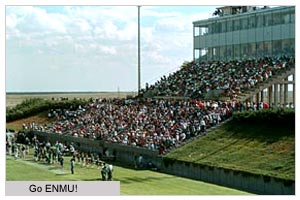 The Eastern New Mexico University Booster Club, called The Bench Club, supports ENMU's hard-working athletes and coaches.

Why Join Bench Club?
You really can make an important difference for ENMU Athletics! ENMU is a member of the prestigous Lone Star Conference and competes at the NCAA Division II level. As the smallest school in one of the smallest markets in the conference, it is essential we continue to expand our list of corporate partners as well as our alumni and fan donor base.
ENMU Athletics has always received generous support from area businesses, alumni and friends to maintain the high standard for success that has been a feature of Greyhound and Zia athletic teams. We need significant support from our many Bench Club members to maintain this level of excellence.
Our Bench Club fund-raising goal for this year is $180,000! We can achieve this goal with your help! Funds received will help:
Supplement the scholarship fund
Continue uniform replacement program
Purchase letter jackets in all sports
Sponsor the ENMU Athletic Banquet
Sponsor "Meet-the-Players" events
Hold promotional events for each sport
Please take a minute to apply online using a convenient form! By contributing to the Bench Club, you can help ENMU's athletes achieve continued success.
As a Bench Club Member, you will receive benefits such as; a membership certificate, reserved parking, schedule cards, newsletters and media guides to stay "in the know" about ENMU athletic teams. Now, with eight different membership levels available, you can find the one just right for you. There are also special discounted season ticket packages available specifically to Bench Club members; and all Bench Club apparel is only available for Bench Club members.